Team Member Spotlight: Rose Gaban
By: Rebecca Jasch / December 17, 2021
LaunchPad Lab's team is full of people from various backgrounds — and we love the experience they bring! Today, we're shining the spotlight on Rose Gaban, one of the newest developers on the LaunchPad team.
Rose started with us as an apprentice in August 2021 and then converted to full-time in November. When she's not helping our clients bring their digital experiences to life, Rose can be found spending time with her majestic Husky, Koda (who is very well-known on our team Slack channels, too!).
Ready to meet Rose? Scroll down to read more about her!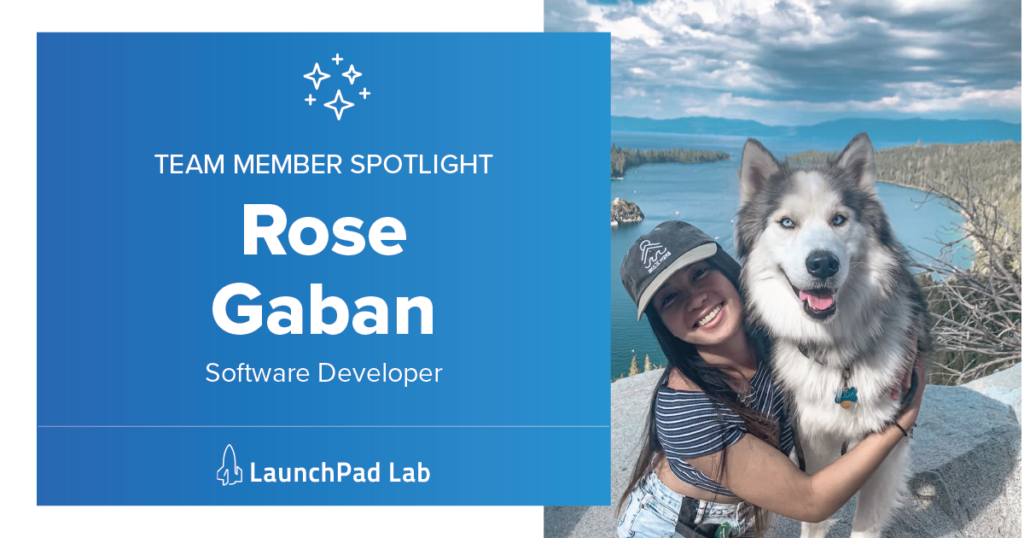 Get to Know Rose:
Q: What do you do at LaunchPad Lab?
A: I'm a Software Developer and I've been with LPL for 5 months!
Q: What did you do before you arrived?
A: I previously worked as a Customer Success Manager, juggling both pre-sales and post-sales, and as a Sales Engineer for a web extraction startup. Being exposed to so many beautifully curated websites and frequently using JavaScript in my role, it sparked my passion for software development. After some thought and discussions with my peers, I then took a dive to become a self-taught developer for a year and joined LPL soon after!
Q: It's 10 am on Saturday. What are you doing?
A: Most likely longboarding with Koda or getting ready to go climb or lift some weights.
Q: What music do you gravitate towards when you have to be extra productive?
A: R&B and Hip-Hop really gets me in my zone! If not, Lo-Fi Hip-Hop is my jam.
Q: What's the first CD/album you ever purchased?
A: I'm not ashamed to say it was Beyoncé — Dangerously In Love!
Q: What inspires you?
A: What inspires me is seeing inclusive and diverse environments, and in general seeing underrepresented communities take up space. Over the years I've realized how representation matters, and knowing this in the back of my mind, it inspires me to show up, educate others where I can, and truly take space instead of shying away from it!
Q: What is the best concert you ever attended? (concert + year)
A: I'm torn between seeing John Mayer in September 2019 and HONNE in September 2018. Although John Mayer is an amazing singer-songwriter and performer, seeing HONNE during their tour for Love Me / Love Me Not, my favorite album of all time, was pure joy!
Q: What's your favorite family tradition?
A: Karaoke on Christmas.
Q: Do you have a pet? If so, tell us about them?
A: I have a fluffy husky boy named Koda! We often go hiking or longboarding together. Fun fact, since Koda grew up in the bay area, he LOVES the beach, and snow is weird and "icky" to him.
Q: Any favorite quotes?
A: "Everything stays right where you left it
Everything stays
But it still changes
Ever so slightly, daily and nightly
In little ways, when everything stays."
Q: Do you collect anything?
A: I recently found a new appreciation for sneakers and have started a small collection that I'm hoping will grow over time!
If you want to stay up to date with Rose and the LPL team, feel free to connect with her on LinkedIn.
Reach Out
Ready to Build Something Great?
Partner with us to develop technology to grow your business.