Team Member Spotlight: Amy Shick
By: Rebecca Jasch / March 21, 2022
At LaunchPad Lab, our team has a unique mix of backgrounds—which gives us an opportunity to understand and relate to the wide range of industries that our clients specialize in. Today, we're spotlighting Amy Shick, one of our fantastic Product Managers at LaunchPad Lab.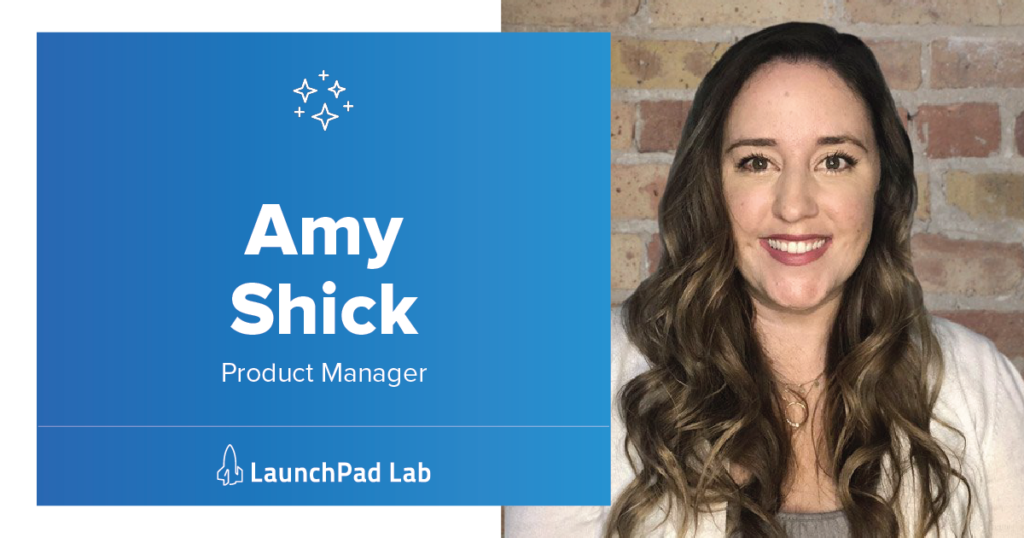 Get to know Amy in the Q&A below
Q: What do you do at LaunchPad Lab? How long have you been with LPL?
A: I'm a Product Manager and I've worked for LPL for a bit over a year.
Q: What do you tell people you do?
A: Work with clients, designers, and development teams to build custom software. To my dad, I say I do stuff on the internet.
Q: What did you do before you arrived?
A: Wedding coordinator and business owner.
Q: It's 10AM on Saturday. What are you doing?
A: Some project around the house or getting ready to meet friends for brunch.
Q: What music do you gravitate towards when you have to be extra productive?
A: I've been listening to Paris Cafe on Pandora.
Q: What's the first CD/album you ever purchased?
A: New Kids on the Block and it was not a CD!
Q: A favorite LPL moment so far?
A: Anytime you get to launch an app after months of hard work is a memorable moment! But besides that, two standouts are after a year of working remote was getting to meet some of the team in real life! Or hosting the company holiday party
Q: What inspires you?
A: As a former business owner, I love helping businesses build products that will advance their company goals.
Q: What's the best concert you ever attended?
A: Any live music at some sort of outdoor venue is my fave. I got a high five from Granger Smith at a county fair—that was pretty exciting.
Q: If you could be any animal, which would it be?
A: Either of my dogs—they're spoiled, napping in the sun right now, and have no concept of Mondays.
Q: What's the last book you read?
A: Atomic Habits. I went deeeep down a habit rabbit hole recently
Q: What's the craziest thing you've ever done?
A: Moved to Hawaii alone with two suitcases after college.
Q: What are you currently watching on Netflix?
A: Since The Office is gone, nothing. What am I watching on Peacock? The Office.
Q: If you could visit anywhere in the world you've never been, where would you go?
A: Some overwater bungalow resort. Fiji, Tahiti, Bora Bora, all of the above.
Q: What's your secret talent that no one knows about?
A: I'm really good at planning and creating itineraries for trips. I'll go deep into research and down message boards and find the best cocktail bar in Athens or aperitivo in Venice.
Q: What's your favorite family tradition?
A: Our Labor Day pool parties at our house growing up.
Q: Do you have a pet? If so, tell us about them?
A: Yes! Two! Little puppy girls, Lola and Sadie. They're 12 and 10 and absolutely the best things ever
Q: Do you volunteer anywhere?
A: Lately I've been researching and wanting to get involved with CASA. All through high school and college, I volunteered at pet shelters. I also had an uncle die of ALS, so I have done some work with them.
Q: Any favorite quotes?
A: Do it scared. Shortened from the quote, "If you can't beat fear, do it scared."" But I just tell myself all the time, just do it scared. Some days it's also do it tired.
Q: What are some of your pet peeves?
A: People who complain about something they have the ability to change, and don't do anything about it. We have a lot of options and a very short life, no one is coming to save you. Also, people who drive slow in the left lane.
Q: Do you collect anything?
A: Yes! My family calls it hoarding, but whatever. I love sauces, jams, condiments. When I travel I'll pick up jars of local jam, honey, olive oils, chutneys whatever. In France recently I came back with candied violets, rose petal jam, lavender syrup, french salt, and olive oil.
Reach Out
Ready to Build Something Great?
Partner with us to develop technology to grow your business.