LaunchPad Lab's Guiding Motivations
By: Nick Lindeke / August 1, 2022
Since our founding, LaunchPad Lab has been home to a team of diverse interests and varied skill sets—from our developers to our product managers and everyone in between. 
To ensure that our team stays aligned and connected as we grow and support clients, we've developed a robust set of guidelines—including the North Star of our methodology, our Guiding Motivations. This set of phrases establishes the key reasons that LaunchPad Lab exists and explains the guiding motivation for how we consistently drive positive results for our clients.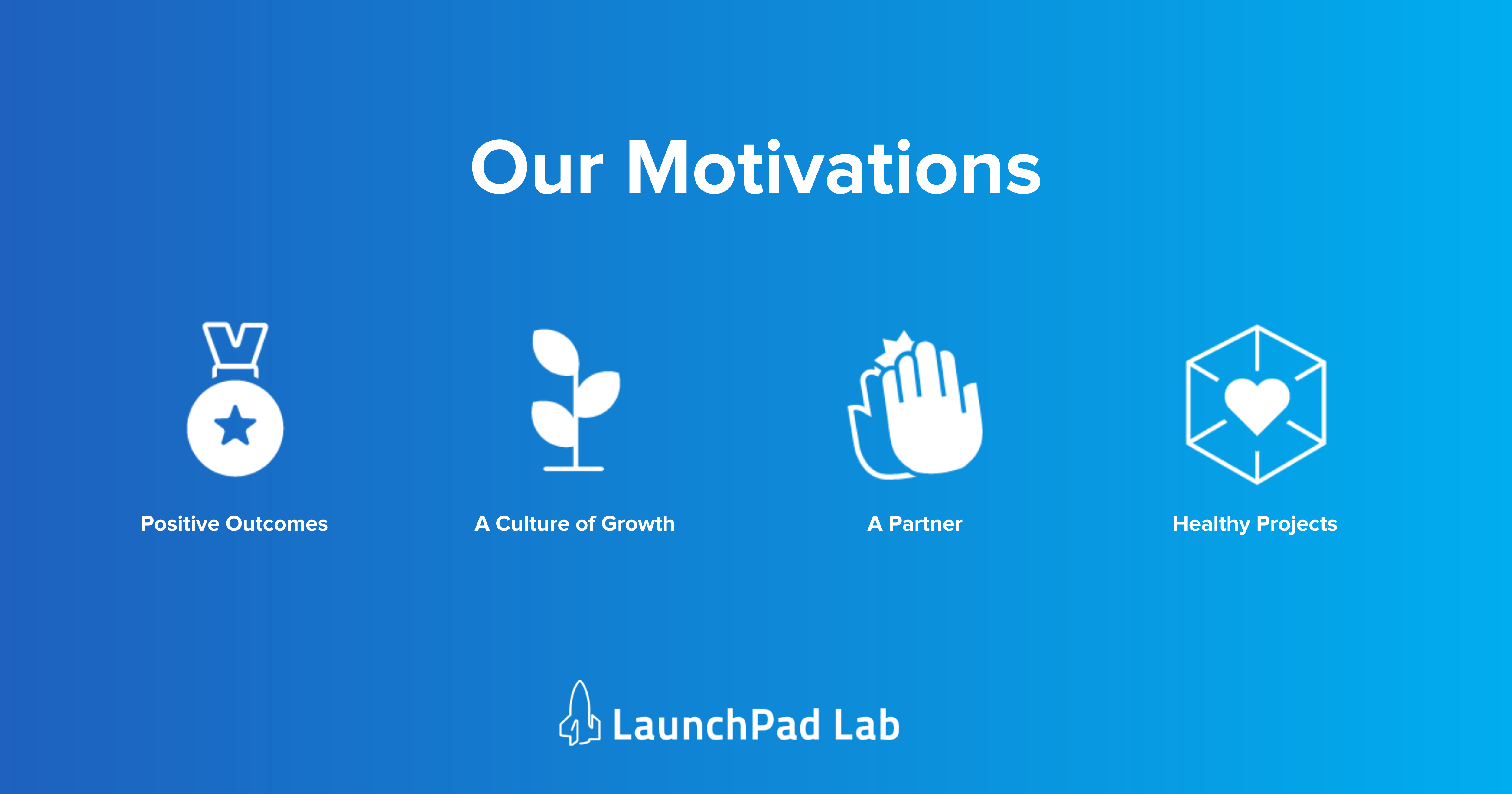 Our Guiding Motivations 
1. We focus on driving positive outcomes in our work.
As a collective team of individuals with diverse interests and backgrounds, we've centered our focus on driving positive results in the work we do every day. It's not about focusing solely on building the best product ever—or using the newest technology platform. 
Instead, we strive to produce sustainable and positive outcomes with our work. To achieve this, we listen closely to our clients' problems, understand their business deeply, evaluate new opportunities in their space, and prioritize work that will deliver the most impact.
2. We endeavor to cultivate a culture of growth, collaboration, and creativity. 
Producing the best possible experience for our clients starts with our internal team culture—and since our founding, we've worked hard to cultivate an ethos that values growth, collaboration, and persistent creativity. 
This means that our team can embody our Company Constants, feel motivated to show up to work every day, feel safe to express their unique backgrounds, and feel comfortable voicing opinions that might not always be in alignment with one another. 
Because of our open and transparent culture, we're able to develop, attract, and retain talent over the long term. Many of our team members enjoy a long tenure with LaunchPad Lab and it's one of the reasons that we believe so much in creating a strong company foundation. 
When a company has a healthy internal culture, it enables us to present our best selves to our clients—and it gives us the space we need to achieve our best work. Our culture sustains a virtuous cycle: Great people building great products for great clients.
3. We strive to be a partner—not a vendor. 
The agency model is often outdated. We believe in more collaborative and close partnership—and less siloed processes and black boxes of work. And to illustrate this, we expect our clients to be collaborative with us. 
Built on a foundation of great communication and strong trust, this process gives everyone involved the ability to have a voice and share their opinions—so we can all arrive at a better solution.  
At LaunchPad Lab, partnership extends far beyond the initial contract. It continues through the entirety of the relationship, the delivery process, and often into many more builds. You can trust us to provide candid feedback, critical thinking, and expert recommendations for every part of the project.  
4. We work hard to maintain healthy projects. 
Lastly, we work hard to maintain healthy projects. This means that we deliver projects that exceed expectations for budget, timeline, and scope. When we achieve these outcomes, we can build trust and grow as collaborative products, shaping the product roadmap and overall strategy. 
Interested in learning more about LaunchPad Lab? 
View our open positions here or schedule a discovery call to start your project.
Reach Out
Ready to Build Something Great?
Partner with us to develop technology to grow your business.