Team Member Spotlight: Analisa Bernardi
By: Rebecca Jasch / February 4, 2021
In custom software, design is a crucial element in creating a great user experience. In fact, sometimes it's one of the main reasons someone chooses to build custom vs. buy a product off the shelf.
LaunchPad Lab's design team is small but mighty. They're involved in projects from the very beginning and play a key role in user research, defining the user's journey in the application, and many other things such as coding the user interface.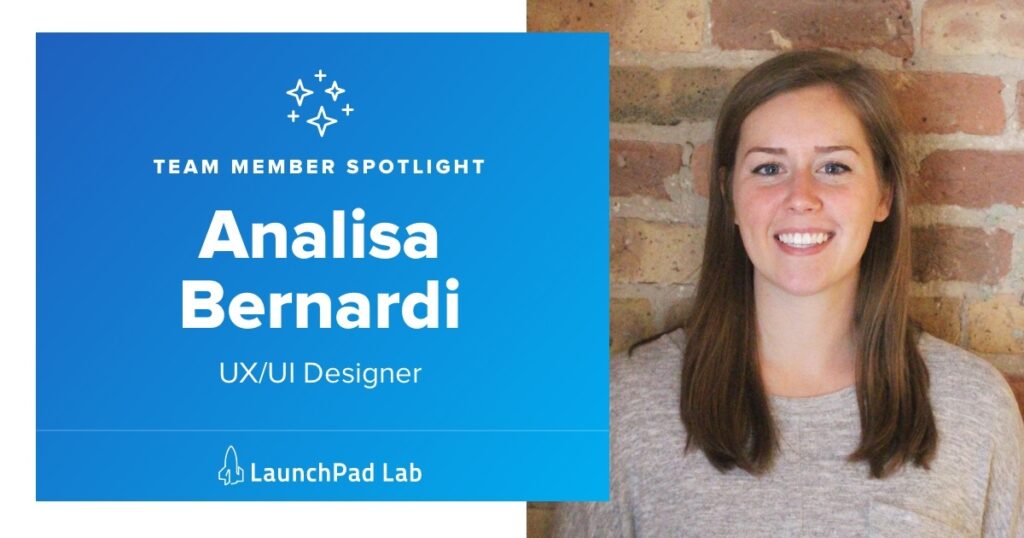 This month, we wanted to shine a light on Analisa Bernardi, one of the three UX/UI designers at LaunchPad Lab. Analisa has been a crucial member of the team since 2018 and in addition to providing design support for many successful projects, she has also does a phenomenal job taking care of her office desk pet cactus "Clyde."
Analisa has always loved art, and her passion for human interaction and thought processes made UI/UX design a clear coupling. She has worked with an array of industries and finds value in fully understanding company needs to directly reflect their values in design.
She has been a part of several successful products in her time here, including our work for Prepmedians, SimplyMerit, and New York Cruise Lines.
Outside of work, she enjoys binge-watching TV shows and traveling as frequently as possible.
"It's always exciting to see the creative design solutions Analisa comes up with! And of course, it's nice having a fellow Illini around to reminisce with."
– Monique Marchwiany, Head of Design at LaunchPad Lab.
Get to know Analisa with the Q&A below!
Q: What do you tell people that you do?
A: I tell people that I create and design products and then make them look pretty through design and code.
Q: It's 10 am on Saturday. What are you doing?
A: Hopefully sleeping, but probably picking up a pastry from a local spot and drinking coffee.
Q: What music do you gravitate towards when you have to be extra productive?
A: I usually listen to pop music I know the words to so I can focus on work or listen to EDM (mostly upbeat).
Q: A favorite LPL moment so far?
A: Lunch in the kitchen on any given day was always a riot. It's the best time to get to know coworkers and find out funny stories.
Q: What inspires you?
A: It's inspiring to see our products launch and watch coworkers conquer new techniques and challenges they thought they couldn't do before.
Q: What's the last book you read?
A: The Psychology of Money
Q: What's the craziest thing you've ever done?
A: The craziest thing I've done is traveled abroad alone.
Q: What are you currently watching on Netflix?
A: Peaky Blinders
Q: What's your secret talent that no one knows about?
A: I'm a fast reader.
Q: Favorite family tradition?
A: Italian Christmas Eve
Q: Do you have a pet?
A: Yes! Lina is our family dog, and she's 13 but acts like she's a puppy. She likes to selectively hear when her name is being called and is always ready to follow you around while you're outside
Q: Do you volunteer anywhere?
A: Chicago Canine Rescue
Q: Favorite quote?
A: Do everything in love.
Follow LaunchPad Lab on LinkedIn to stay updated with our team and Analisa!
Reach Out
Ready to Build Something Great?
Partner with us to develop technology to grow your business.