How Our Company Constants Shape Our Culture
By: Rebecca Jasch / November 9, 2021
In the earliest days of LaunchPad Lab, our team was filled with a wide variety of skill sets and personalities. And although we felt like we were aligned—in the way we worked, the standards we committed to, and the way we treated each other—we wanted to define the guidelines that shaped our culture to prepare for future growth and ensure a solid foundation.
Those guidelines became our "Company Constants," and are now interconnected with our day-to-day roles in a number of ways—from an internal program called Kudos to professional development opportunities for our employees. 
Keep reading to learn how defining our Company Constants left a lasting impression on the future of LaunchPad Lab.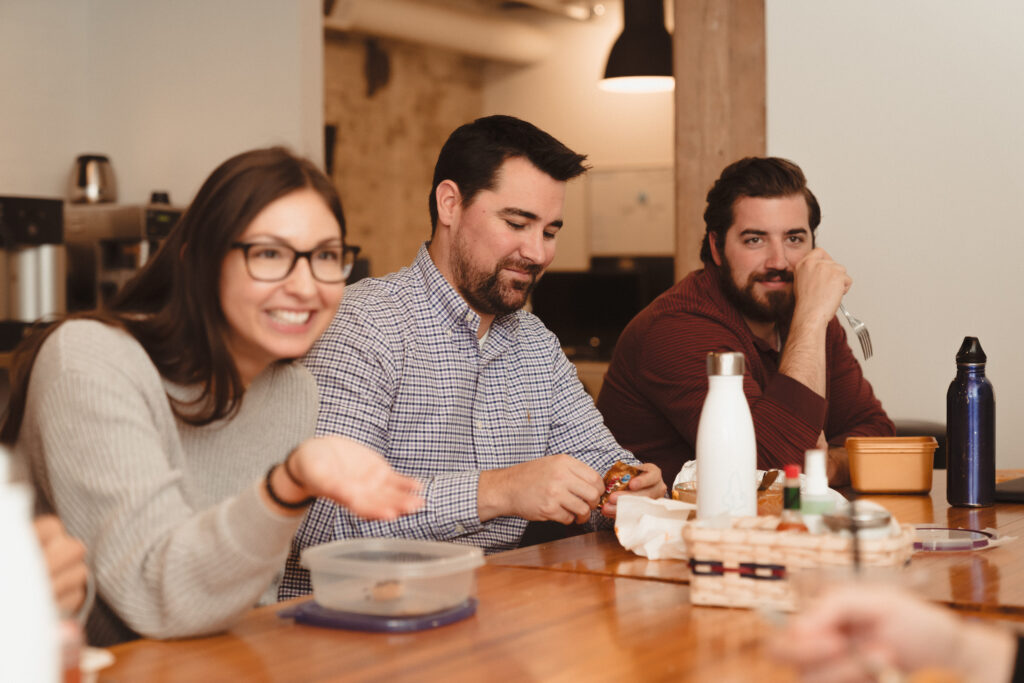 How We Did It
In 2020, our team set out to define the values that guided our decisions and actions and put them into writing. We left a whiteboard in a common area, letting team members write down important values and keywords on sticky notes as they came to mind.
Then, we compiled all the notes and discovered several core themes. From these large topics, we were able to define our Company Constants:
Put people first
Be authentic
Own the outcome
Play the long game
Make time for play
Coach and coachable
Have an open mind
In articulating these values, it not only helped us unite our team—but it made it easier to communicate our principles to our clients, align our internal processes, hire the right employees, and offer helpful, empowering feedback to one another.
Aligning Feedback to Our Constants
Guided by our Company Constants and as part of our SPACE program, we often brainstorm fun, powerful ways to implement our values in our daily operations—and Kudos is one of our favorite projects that has been born as a result.  
A few years ago, our team of builders set out to create a fun, seamless way to recognize all the incredible contributions from our team members. Originally starting off as a simple Google Form, this idea developed into a fully-functional online product that we still use every week. Kudos allows our team to congratulate one another on a job well done every week—and when our team members nominate someone for 'LPL-er of the Week", they also identify which Company Constant someone exhibited in their work, connecting our every day work back to the values that guide our team.
At the end of the year, LaunchPad donates $25 for every week that an individual won Kudos to a charity of the winner's choice. Since launching the app in 2018, we've donated over $4,000 to more than 25 charities on behalf of Kudos and our team members—and we look forward to continuing to support our team and our community through this fun platform.
Shaping Our Professional Development
Our ability to grow professionally is also shaped by the Company Constants — so team members have the opportunity to advance their careers and deepen their connection to our organization's underlying pillars. While the detail varies by job function, our constants guide our annual feedback and the specific behavior we want to exemplify to grow professionally and advance our career.
Although building company culture in a remote-first environment comes with its unique set of challenges, our Company Constants have played a key role in creating alignment and clarity across all our team—no matter where they call home. To learn more about LaunchPad Lab, click here.
Reach Out
Ready to Build Something Great?
Partner with us to develop technology to grow your business.