Tackling Mobile Development with Ionic
By: Mike Wislek / September 21, 2021
At LaunchPad Lab, we're dedicated to finding the best technology to support our clients and help them achieve their goals—whether that be taking an app to market at record speed or providing a complex, bespoke user experience.
When it comes to launching a mobile app, traditional options can be filled with challenges, limitations, and long development times. Ionic, one of our all-time favorite platforms for mobile development, eliminates common issues and offers a streamlined, high-quality, and seamless experience for both developers and clients alike.
What's Ionic?
Ionic is a full-service mobile app development platform that helps businesses build and deliver high-quality mobile and web applications for iOS, Windows, and Android.
Ionic offers a powerful new way to approach app development by streamlining the coding process, supporting in-house developer talent, and ensuring a speedy timeline from kickoff to launch. It also allows you to have complete control over how your app is built, ensuring a branded and customized digital experience.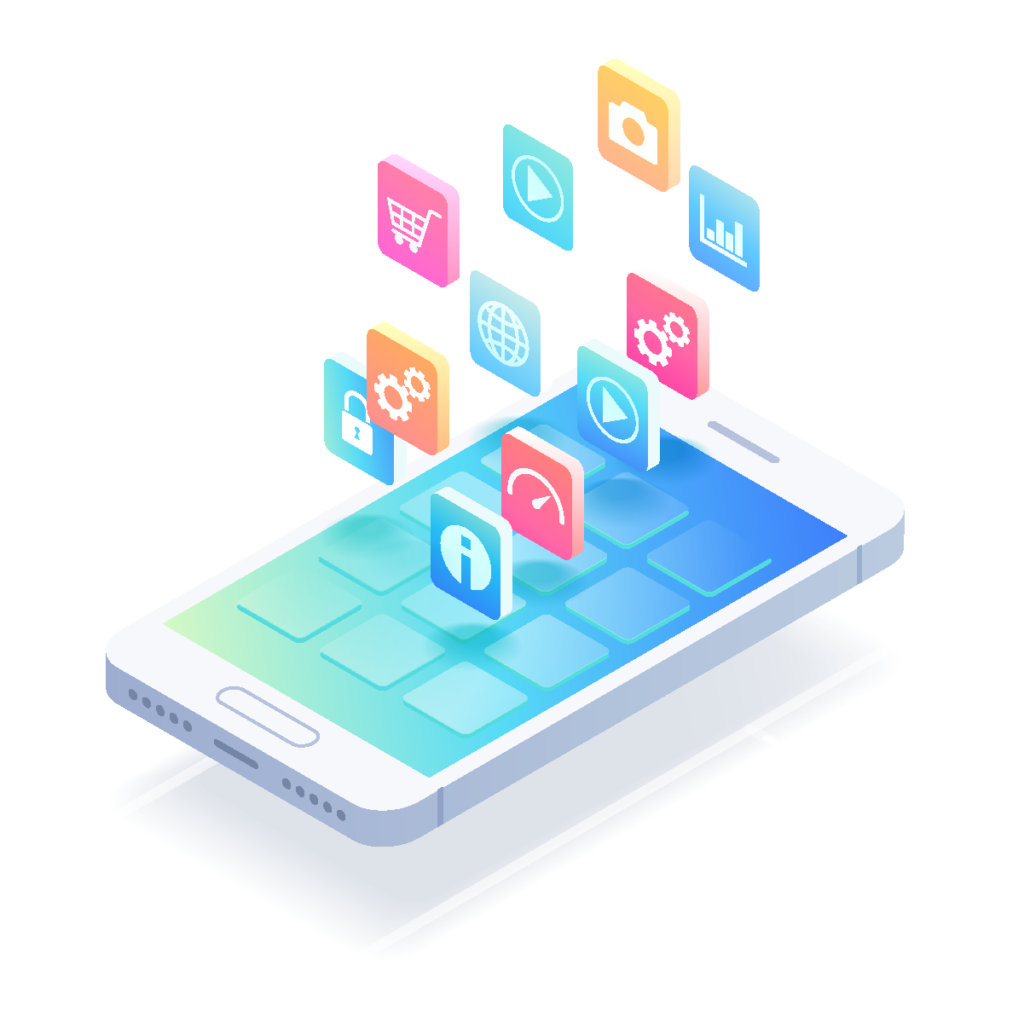 Why Choose Ionic?
As a comprehensive development platform, Ionic provides everything your business needs to build and deliver high-quality mobile and web applications from start to finish.
We recommend using Ionic for your project if:
You want both an android and iOS version of your app
You're looking to reduce development costs and hours
You want your apps to run on multiple platforms with the same digital experience
You want to transform and customize your digital presence
What are the Benefits of Building on Ionic?
Get to market faster.
Ionic enables developers to build apps from a single codebase and then seamlessly deploy them across iOS, Android, and web. Thanks to this powerful feature, Ionic drastically accelerates time-to-market and enables companies to complete their projects with ease. When we use Ionic for our clients, we typically find that building with Ionic is 2–3 times faster than traditional development options.
Powerful efficiency.
You don't need numerous development teams to effectively build with Ionic—nor does your development team need to learn new technologies. Instead, Ionic's unique approach simplifies the process by deploying code across multiple platforms and saving time, money, and effort.
For example, an in-house developer who hasn't created a mobile app before can use Ionic's agile platform to code and deploy with minimal effort to an iOS app, an Android app, a website, and a desktop app. Or, if you have a development team that deeply understands HTML, CSS, and JavaScript, Ionic empowers them to be successful on almost any platform.
Release apps seamlessly.
In today's technology-driven world, we're seeing an increasing number of companies releasing apps regularly and quickly. But developing an effective app isn't always a quick and simple process.
With Ionic's continuous mobile DevOps, your development team can easily automate key phases of the development process and eliminate any repetitive or recurring steps. This feature, called Appflow, not only saves time and money—but it increases overall agility and enhances the overall quality and cohesion of your app ecosystem.
Transform your digital presence.
Users today want one seamless experience wherever they go—from their cell phone to their desktop to their web browser. Ionic provides complete creative control over how you built your app, thanks to limitless customizations and native performance.
Plus, you'll have easy access to native device features, full access to the native SDK whenever you need it, and the ability to integrate with any third-party, backend, or legacy system.
Stay secure.
To keep data secure, Ionic also includes pre-built security solutions:
Identity Vault: Multi-layer native security and biometrics authentication
Offline Storage: Secure, offline experiences and data storage
Auth Connect: Quickly and securely integrate with your authentication providers
Ready to learn more?
If you're looking for a partner to elevate your digital experience, LaunchPad Lab is here to help. With nearly a decade of experience building apps, our team can help you differentiate yourself from your competitors with an amazing digital experience.
Schedule your free Discovery Call with us to learn more.
Reach Out
Ready to Build Something Great?
Partner with us to develop technology to grow your business.