Learn SEO: Lesson #1 – Introduction to SEO
By: Ryan Francis / April 2, 2014
Modern day treasure hunters are experts at Google. The pile of gold that comes along with that elusive #1 ranking is nothing to joke around about. It is real, it is huge, and it is make or break for thousands of businesses around the world.
In the coming blog posts, I will leverage my experience as a web developer and as a business owner to give you the tools and knowledge you need to maximize your profits online.
What is SEO?
Search Engine Optimization is about helping the people searching for what you offer find your website. Since Google facilitates this discovery process, you need to inform Google about what you offer. Further, when Google does decide to send the user your way, they will be watching to see if the user's needs are in fact met.
The whole process is numbingly simple when you consider the perspectives of the three stakeholders involved: the user, Google, and you. The user is trying to find something they need. Google is trying to help the user find it. And you are trying to bring as much qualified, interested traffic to your website as possible. The criteria for your success are twofold: (1) convince Google that when someone searches for what you offer you are the best website to forward the user to and (2) ensure that the users searching for what you offer are engaged on your website.
The ultimate goal of SEO is to come up #1 in the list of organic search results for the searches most relevant to your website. Organic results are the listings that Google deems to be the most relevant to a search, as opposed to the advertisements they include in the results. In a later lesson, I will teach you how to optimize your advertising on Google (via their program called Adwords).
Primary Factors That Drive SEO Performance
SEO performance is driven by (1) Keyword Strategy, (2) On-page SEO, and (3) Off-page SEO.
Keyword Strategy
In SEO terminology, keywords are phrases that people search for on Google. The first step in creating an SEO campaign is to figure out which keywords to target. Aim for a keyword that is too broad, and you could be damned to the 2nd, 3rd, or even 4th page. Aim for a lower traffic keyword that brings you uninterested visitors, and you won't see the sales you were hoping for. But find the keyword that you can achieve the #1 rank and that brings you qualified, interested visitors, and you will see your sales rise.
On-page SEO: Website Structure, Content and Engagement
Before you can be found, Google needs to know what you offer. This means you need to structure your website in a way that enables Google's algorithm to understand what you do. The major key to this is to structure your content with a clear hierarchy. Matching your title and description meta tags with the keywords you are targeting is the first step toward on-page SEO optimization. However, this alone will not bring you success. Google will be assessing how engaged users are on your site. As a result, it will be important to keep your website up-to-date with fresh, captivating content.
Off-page SEO: Web Presence
You need to appear important to Google. The primary indicator of your importance online is a metric called PageRank. Basically, every webpage on the planet is assigned PageRank by Google's algorithm. You earn more PageRank when another webpage links to your webpage, and the greater the PageRank of the other webpage, the greater the PageRank you earn. Google will also consider your social presence by analyzing metrics like number of Twitter followers and Facebook likes. Lastly, your website's traffic indicates to Google how popular your website is and may impact your search rankings too.
Find Your Unique Value In The World
To many people, SEO seems like dark magic that only experienced computer geeks can figure out. The reality is that those that are the best at SEO have a deep understanding of the underlying business behind the website. This enables them to identify the keywords that bring people that actually need what the website offers. Your website will be ranked on Google according to its relation to every other website in the world. Because of that, it is important that you create an SEO strategy that reflects your unique value offering.
Let's say you are the best place in Chicago to buy guitars. When someone searches "buy guitar chicago", you are hoping and praying that they end up at your website. If Google had infinite wisdom and was aware of the fact that you are the best guitar shop in Chicago, they would display your listing in the #1 organic search result for the keyword "buy guitar chicago." Right now, Google thinks that Chicago Music Exchange is the best place to buy guitars in Chicago: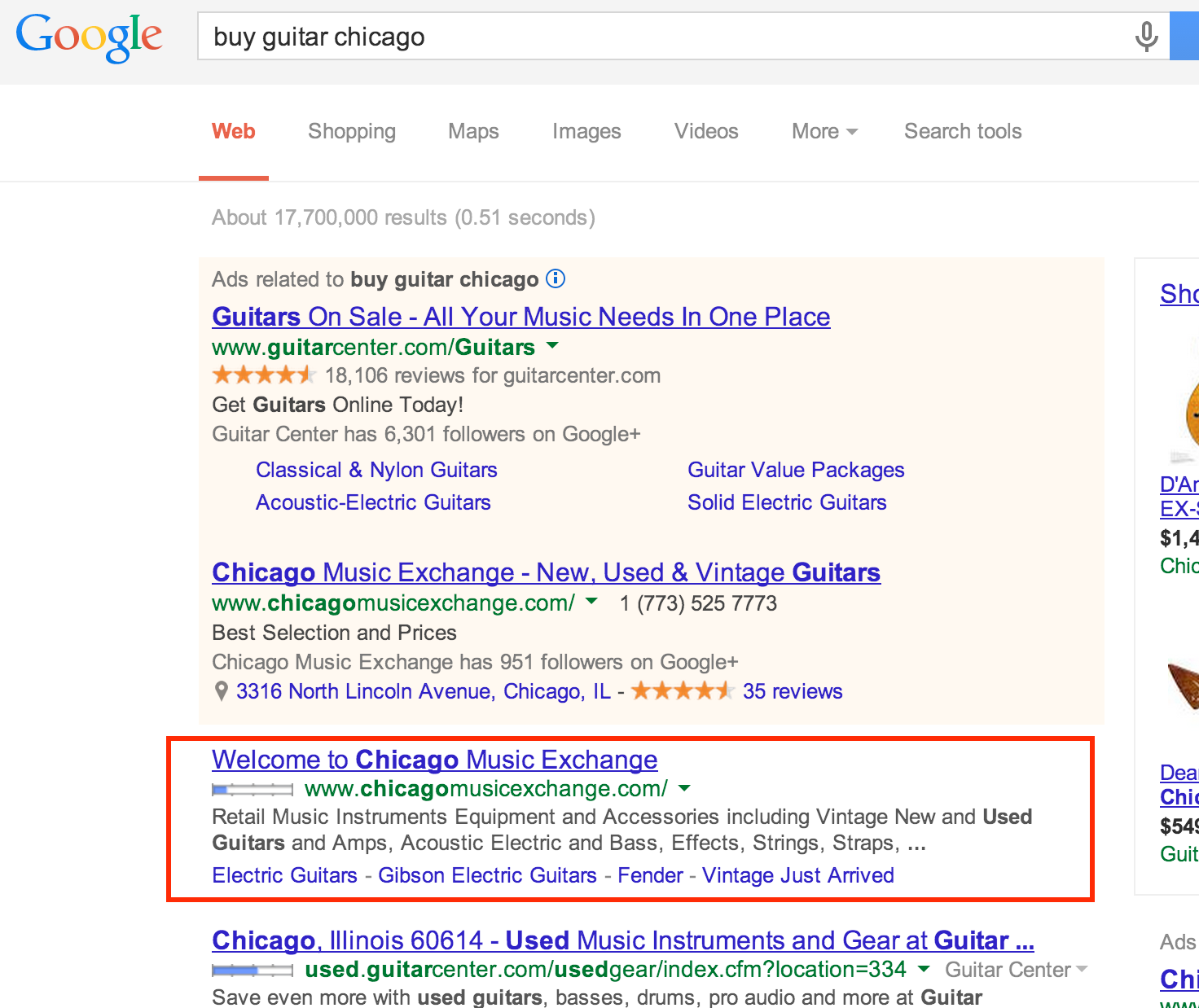 If there are lots of suppliers of guitars in Chicago, you can bet your bottom dollar that the users who search "Buy Guitar Chicago" are getting their needs met at Chicago Music Exchange. The greater the competition, the greater the number of listings Google can sift through to find its top results. Because of this, it is important to think of your business in the landscape of the world. You are not the only supplier of guitars, but I bet you do something better than other guitar shops. Perhaps you are the best place to buy high-end guitars. Maybe you have a knack for a certain brand. Or maybe you just are the best place to buy guitars in your neighborhood. Whatever the case, your goal with SEO is to expose your unique value in this world to Google, so that Google can introduce that value to their audience.
Not only does it philosophically make sense for you to focus on exposing your unique value in the world to Google, but the numbers suggest it is the most profitable. Let's start with a tiny (but mighty) metric called Click Through Rate (CTR). CTR indicates how often a user clicks on your listing when searching for something. If for every 1,000 people that search "Buy Guitar Chicago", 100 of them click on your listing, you have a CTR of 10% for that keyword. Research has shown that 70% of all clicks go to an organic search result. Further 18% of the organic clicks go to the #1 position, 10% to the #2 position, 7% to the #3 position, and 5% to the #4 position.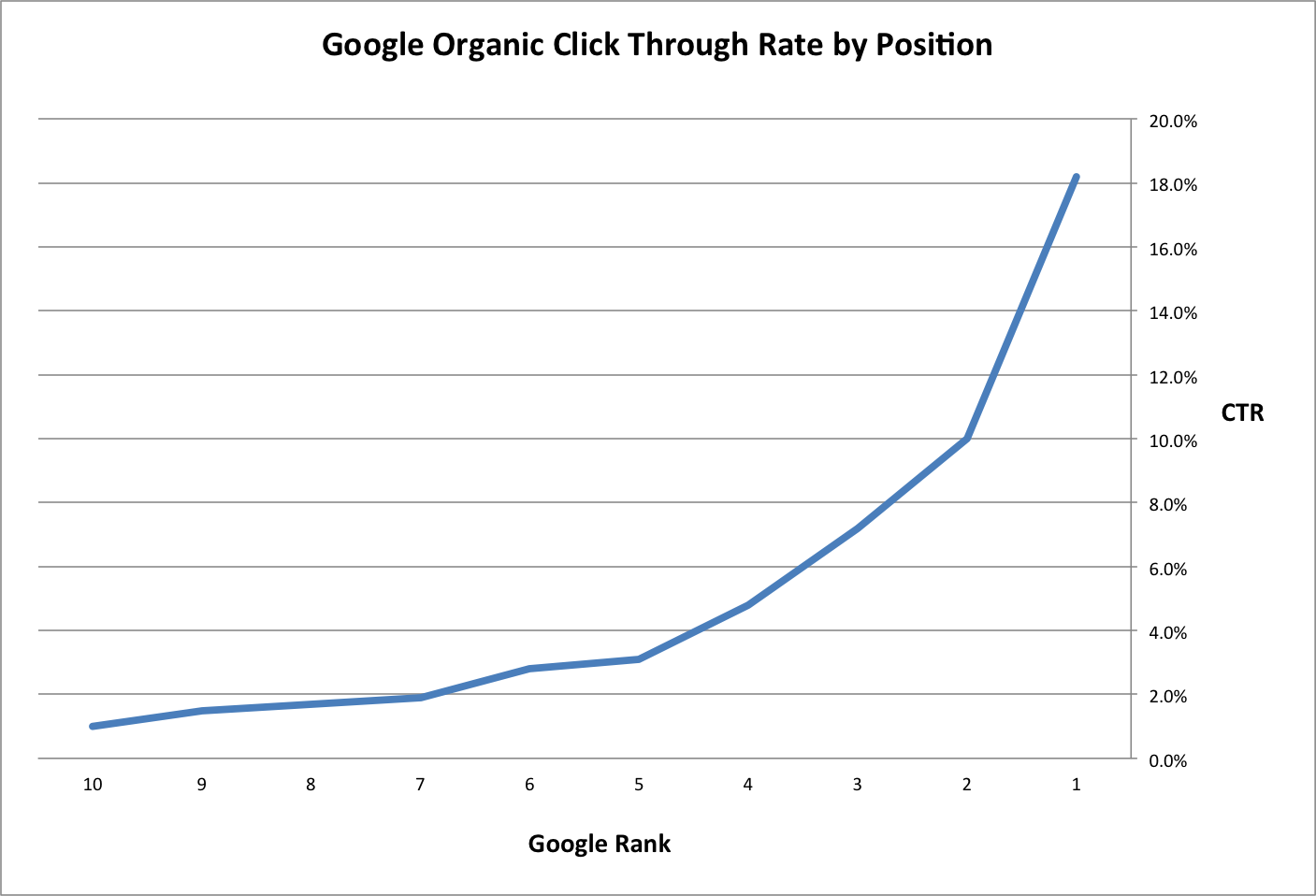 What does all of this mean? It means that being in the #1 organic position is exponentially better than any other position. It would be wiser to go after a lower traffic keyword where you can achieve the #1 rank than to go after a large traffic keyword and be a lower rank. Further, if the lower traffic keyword is more relevant to your business, a larger percentage of your visitors will convert into buying customers. If your expertise is in selling high-end guitars, include "high-end guitars" in your SEO strategy. Assuming competition is normal in your industry, this will increase your profit.
In the next lesson, I will walk through the metrics that determine your profitability online, and help you choose an SEO strategy that will maximize your profit.
---
Post by Ryan Francis
email: ryan@launchpadlab.com
twitter: @ryan_p_francis
Reach Out
Ready to Build Something Great?
Partner with us to develop technology to grow your business.