How Can Contentful Help You Build Your Digital Foundation?
By: Larissa Converse / November 9, 2022
Building your business's Digital Foundation—a combination of internal and customer-facing tech—has a long-term impact on your company's growth and success. At LaunchPad Lab, we see a Digital Foundation as the critical differentiator in a company's ability to attract, convert, and retain its target customers for years to come. 
As a digital product agency, our mission is to leverage the best tools and tactics available through our custom application development services to contribute to building your Digital Foundation. One product we use and recommend often is Contentful, an API-first content platform, commonly known as headless CMS. If you're interested in building your Digital Foundation, keep reading to learn more about Contentful's powerful capabilities. 
What's a Headless CMS?
A headless content management system (CMS) separates the content from the code, which streamlines your internal team's workflow and empowers marketing and content teams to implement real-time content additions and revisions.
In today's digital ecosystem, the most impressive—and most powerful websites—on the internet often function like an application. With membership portals, self-service capabilities, and unlimited opportunities for personalized experiences, modern internet users are learning to expect this level of customization and functionality.
Contentful & The Digital Foundation
With an API-first composable content platform like Contentful, publishing dynamic content across multiple channels is streamlined and efficient. By separating the content from the code, a headless CMS makes it possible to publish content, customize the user experience, and streamline an internal team's day-to-day operations and maintenance. With these capabilities and more, Contentful plays an integral role in each pillar of the Digital Foundation: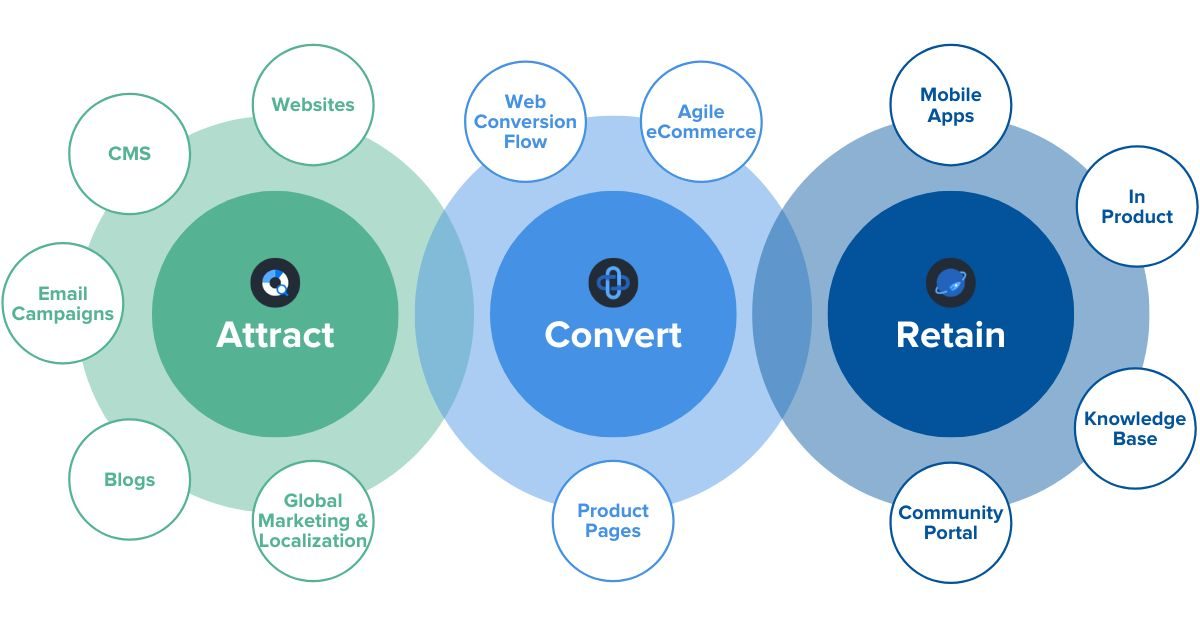 Attract
Your website is often the first interaction a user will have with your brand. Leveraging Contentful's composable content platform offers a streamlined and cohesive digital product, elevating your overall brand presence.
Because Contentful elegantly separates content from code, it's seamless for internal marketing teams to control all of the content and copy deployed and make up-to-the-minute revisions. Having cohesive, consistent, and updated content is key in attracting—and communicating with—your target audience.
Convert
Once a user has interacted with your website, Contentful can support your efforts to both nurture and convert your lead—regardless of how long (or short) the customer journey is in your specific industry. Contentful's mobile app functionality, customized product pages, and streamlined e-commerce experience guide a user through each step of the process and make conversion seamless.
Contentful also features a tremendous amount of personalization opportunities—one of the most effective strategies in converting website visitors into customers. With Contentful integration, you can leverage real-time personalization and unified customer profiles to meet your target audience where they are and convert them into long-term customers.
Retain
After a customer has made a purchase or leveraged your services, your focus should shift to retaining and providing continuous value to your customer. Contentful offers helpful community portals and knowledge bases to keep customers engaged with your organization throughout the entire customer journey.
One of the most effective strategies to retain your customers is through a strong member experience. This could include a community portal, member experience, or a self-service tool that enables your customers to interact with your organization on their own terms.
With Contentful's powerful content capabilities, building a knowledge base or community portal is an effective way to connect with and retain customers, leading to long-term brand connection and loyalty.
Let's Build a Strong Digital Foundation Together
As a digital product agency, LaunchPad Lab can help you determine which products are right for your business. We build custom solutions that integrate seamlessly to help you create a strong Digital Foundation that will continue to attract, convert, and retain customers. 
Explore our custom application development services and book your free discovery call today to get started!
Reach Out
Ready to Build Something Great?
Partner with us to develop technology to grow your business.