Do This To Increase the Adoption of Your Company's Internal Apps
By: Scott Weisman / July 24, 2023
A few years ago we conducted an on-site product discovery workshop with one of our clients. We interviewed more than 15 employees and learned a lot about their business. But one employee on the operations team stood out from the others and provided key insights into how the business actually ran.
We noticed that this employee had a Post-it note on her computer monitor. In big bold Sharpie print, it said: "ENTER TOTALS INTO EXCEL!"
We asked her what that meant. She immediately told us all about how she gathered the company's metrics from many different sources. Then, she manually entered all the data into Excel.
Her explanation gave us great insight into the client's workflow and uncovered that our client had data in many different places that weren't updated in real time. It also highlighted that the entire operation depended on one employee making very manual updates.
The Post-it note made it clear that we had to incorporate better data management and an automated process into the new product. More importantly, by taking the time to listen to this employee and others, they were bought into the idea of the new software before we built it.
When building internal-facing applications, companies typically make the mistake of not getting employee input, or giving less weight to employees' opinions. This predictably results in employee pushback, slow adoption, and wasted time and money.
We recommend taking a different approach to build great internal applications and gain employee adoption. 
When we work with a client to build an internal application, we make sure to bring employees into the process right from the start. We treat our client's employees as customers that we need to serve and delight.
Here are a few ways you can bring your employees into your process to build better internal products. 
Bring Employees in Early in the Process
When building software for employees, it's critical to bring them into the process early. This allows you to see how they actually work, which will bring new insights into the product.
During our product discovery Blueprinting Workshops, we make a point to schedule interviews with employees who will use the product. This allows us to pick up small clues like the Post-it note in the example above. These clues provide key insights for the product.
Listening to employees as if they are customers, allows them to be a part of the new product. Their input will make the product better and make internal adoption much easier.
Get Feedback on Early Prototypes
Once you have a design or prototype of the new application, you can bring it to employees to gather more feedback. Does it meet their needs? How can it be further improved?
The goal here is not to build every feature suggestion into the product but rather to get a variety of input so you can decide what's best for the product.
Too often, companies are afraid to ask for feedback because they don't want to disappoint users by not incorporating their feedback. But we've found this fear misplaced. People understand that products can't have every feature requested. They simply want to be heard and have the product work well for them.
Build In Lifecycle Communication
Customer-facing products usually have a lot of communication built in. You get a welcome email when you sign up, in-app notifications to alert you to new features, and weekly updates.
Why not take the same approach with internal apps? Employees will appreciate the communication. Regular updates will help the app become something that they want to use as opposed to something they have to use.
The best example of this in practice is Gusto. Gusto is a modern payroll service that has outstanding user communication. When I signed our company up for Gusto, employees had to use the platform (if they wanted to get paid). So Gusto doesn't need to delight our employees, but they do it anyway.
Here's an example payroll email from Gusto: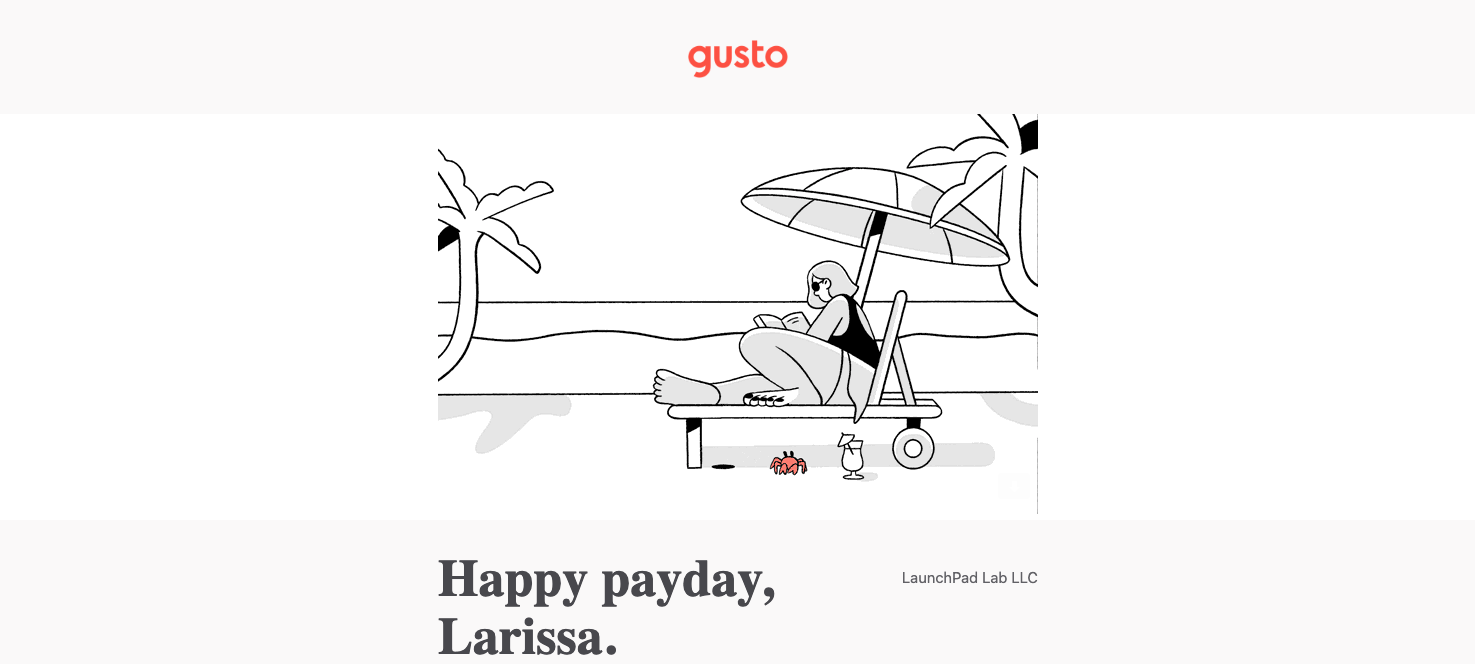 Our employees love this and actually love using Gusto. I don't think too many employees would say the same for other payroll services.
Listen, Learn, and Incorporate
That one Post-it note led to us reimagining the client's software. We found that by manually updating data from different sources, the data was already stale by the time it got to managers. The Post-it note was an important clue that the company needed a better way to view data.
With that knowledge, we built a series of dashboards that automatically updated from several sources in real-time. With the right data at the right time, managers could make better decisions for their teams.
Recognizing the pain points of unadopted internal apps and embracing employee feedback can transform company operations, boost productivity, and enhance employee satisfaction. Actively incorporating employee insights in internal app development empowers and delights employees, leading to greater success and growth.
Reach Out
Ready to Build Something Great?
Partner with us to develop technology to grow your business.