A Crash Course into Business, Product, & Design by Playing Rollercoaster Tycoon
By: Monique Silva / April 9, 2020
I didn't realize it at the time, but it turns out my favorite computer game growing up was teaching me all about business, product development, and user experience.
Sam Sawyer developed this game back in 1999, and it wasn't until recently that I discovered they released RollerCoaster Tycoon Classic for phones and tablets. Let me tell you, the game is even better than I remembered. And after playing a couple park scenarios, I began to reflect on just how many useful lessons this game taught me…
Setting goals help you focus.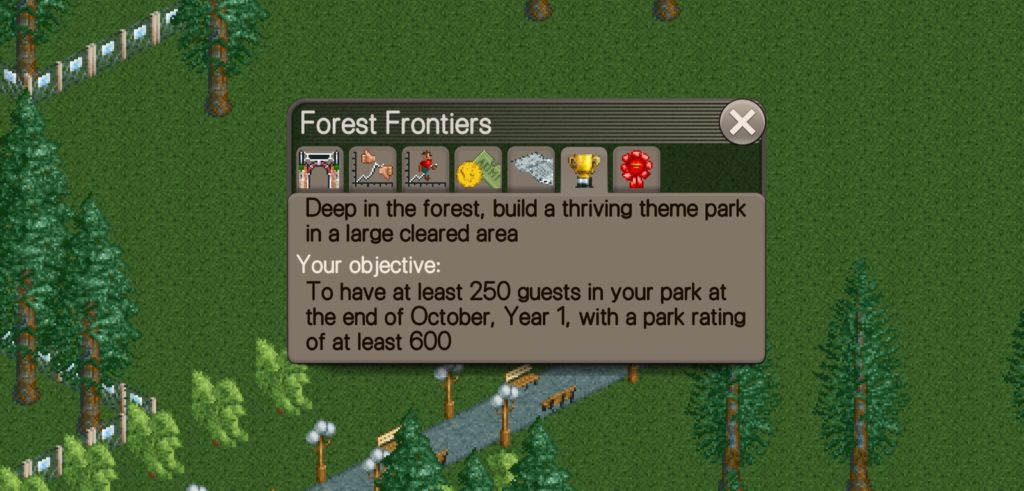 When starting a level players are given a couple business objectives to reach within a limited time frame. This ultimately helps you focus your attention and requires different strategies. Some examples from the game include:
Have at least 250 guests in your park at the end of October, Year 1.
Achieve a park value of at least $20,000 at the end of October, Year 3.
To have a monthly income from ride tickets sales of $8,000 per month.
Key takeaway: For a business or product to thrive, you need define what success looks like, push the envelope, and then in the next quarter push yourself even harder.
User research/interviews show you what to build and when.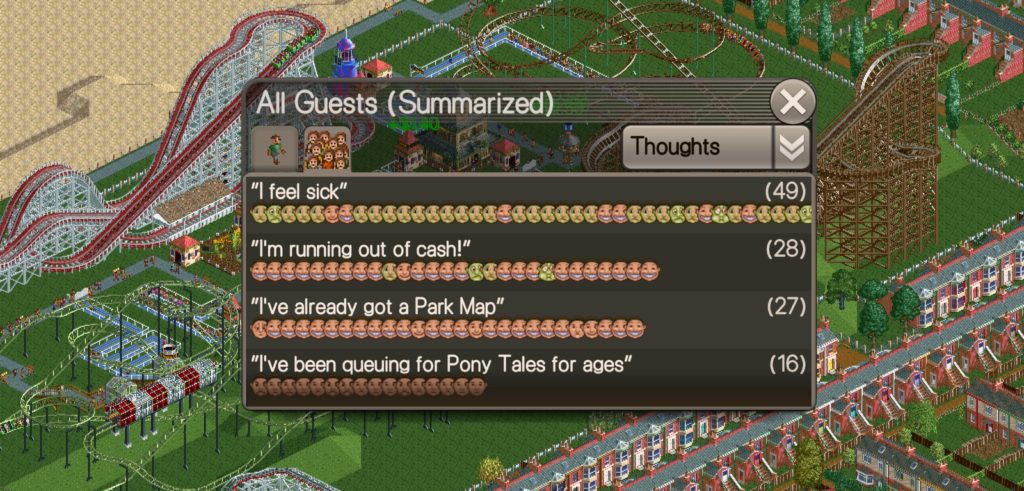 The game gives you a look into what your park guests are thinking, which proves to be extremely valuable data. It can help answer several questions you'd ask yourself during the game like:
Why is no one in line for this ride, is it too expensive or intense?
This ride seems really popular, am I charging enough for it?
Why isn't my park rating higher?
Key Takeaway: You don't have to make decisions based off of blind assumptions. Obviously we can't read minds, so you'll have to get out there and ask people what they think and want. It's not only cheaper, but also saves valuable time in the long run-allowing you to focus on what really matters.
Marketing brings paying customers.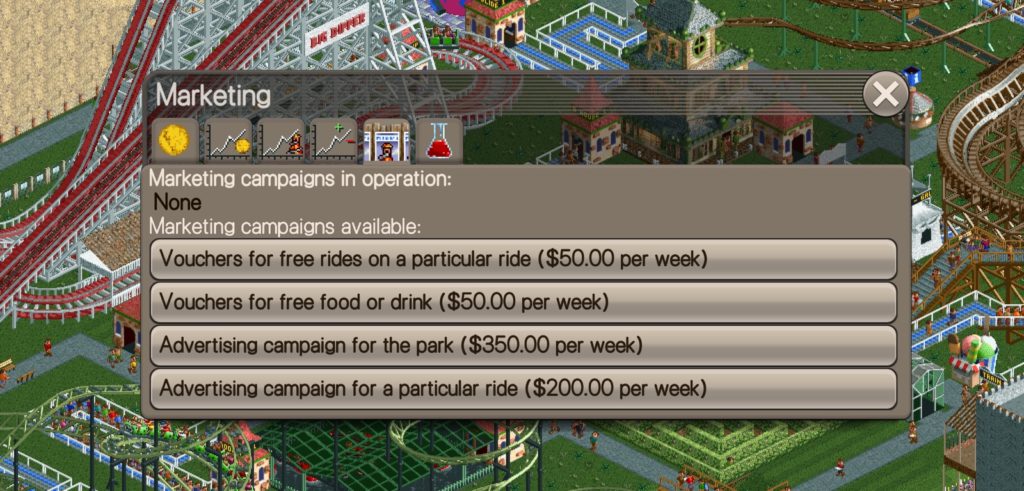 Building new rides and maintaining a high park rating will attract more and more guests to your park. But when you want an extra push to reach your 1,000 Guests by Year 2 goal, you'll need a marketing strategy to incentivize guests even more. A few options include:
An advertising campaign for the park or ride
Sending out vouchers for free rides or concession stand items
The key is to make sure you start these campaigns early enough. Results aren't going to be instantaneous.
Key Takeaway: You need to spend money to make money. So don't get stuck in the mindset that if you start a company, customers or users will naturally come. You have to build brand awareness. You have to get them excited. Sometimes that includes giving away free trails or discounted rates their first couple months—that's your time to get them hooked!
Bad UX can be very costly.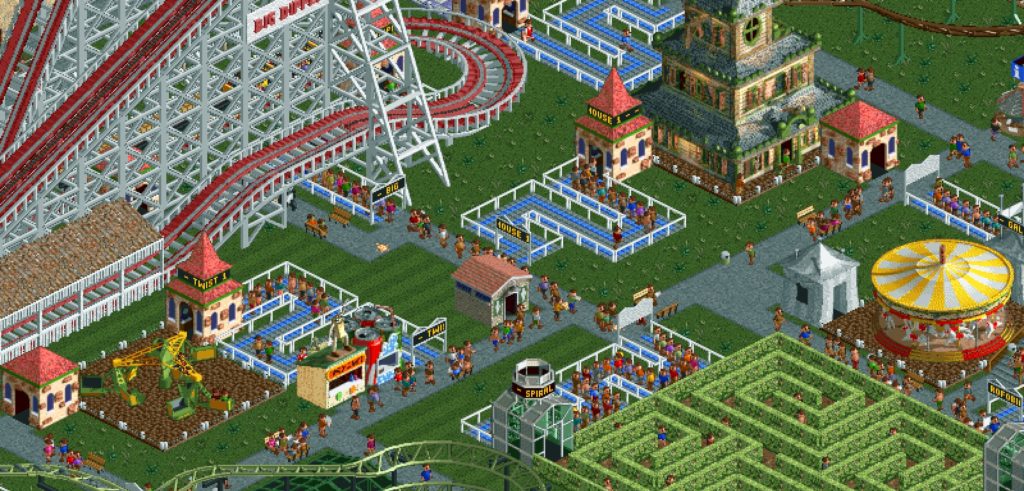 Creating clear, uncomplicated paths that get guests to the rides faster is crucial. When guests are aimlessly walking around they aren't spending money and that's obviously bad for business. Even paths with a good flow can benefit from kiosks that sell maps, which helps guide guests to rides.
Key Takeaway: Clarity and simplicity are essential when it comes providing seamless user experiences. Guide them in the right direction instead of completely letting them loose.
Manage your budget on Day 1.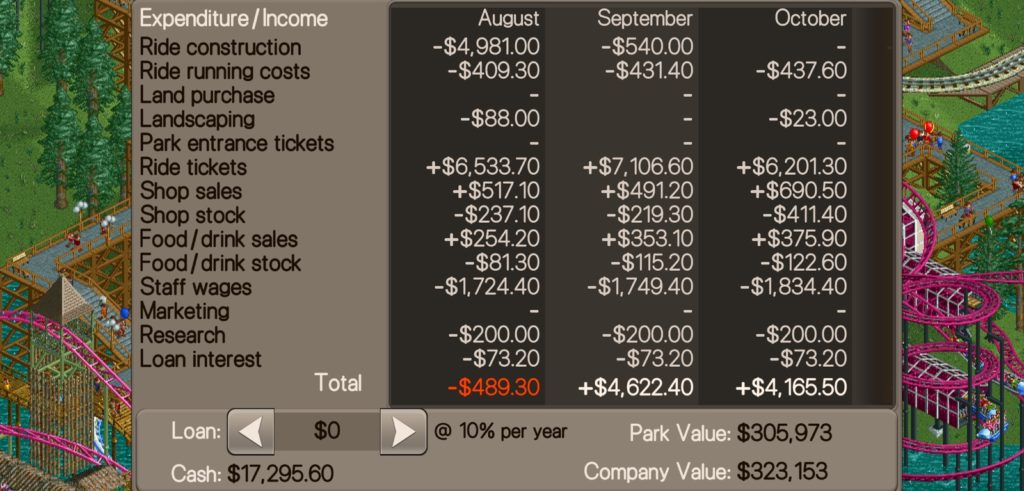 The game doesn't give you infinite money, you are given an initial budget and have the option to take out a loan (which costs you interest every month just like in real life). So you have to be strategic when it comes what rides and shops to build. As enticing as it may be to build that rollercoaster with all the crazy loops and big drops, there's several reasons you don't blow your budget on that one expensive rollercoaster:
One ride = one long line = lots of unhappy guests = poor park rating
More rides will keep your guests interested and spending more money.
Multiple rides will appeal to guests' varying preference of ride intensity.
Key Takeaway: Businesses and products need room to evolve, especially in its early stages. This means spending your entire budget upfront won't allow for essential changes down the road to happen to appeal to the masses.
Understand the amount of resources you actually need.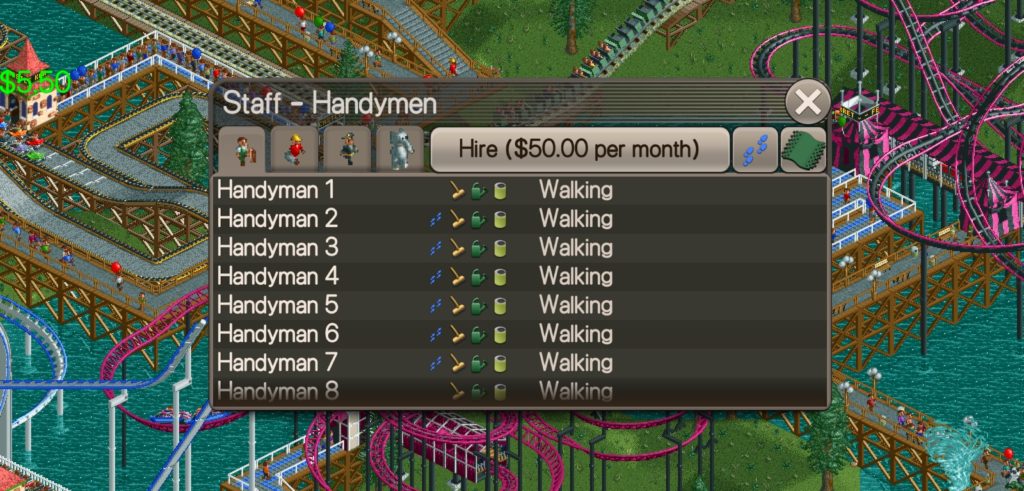 The game includes Handymen, Mechanics, Security, and Entertainers to keep the park running smoothly. As your park grows you need to find the sweet spot of how many people you need to hire in order to support your park's needs. For example, when you're just starting out, hiring one handyman and one mechanic should be plenty.
Key Takeaway: Hire with a purpose. Let your team grow based on need.
Plan for the unexpected.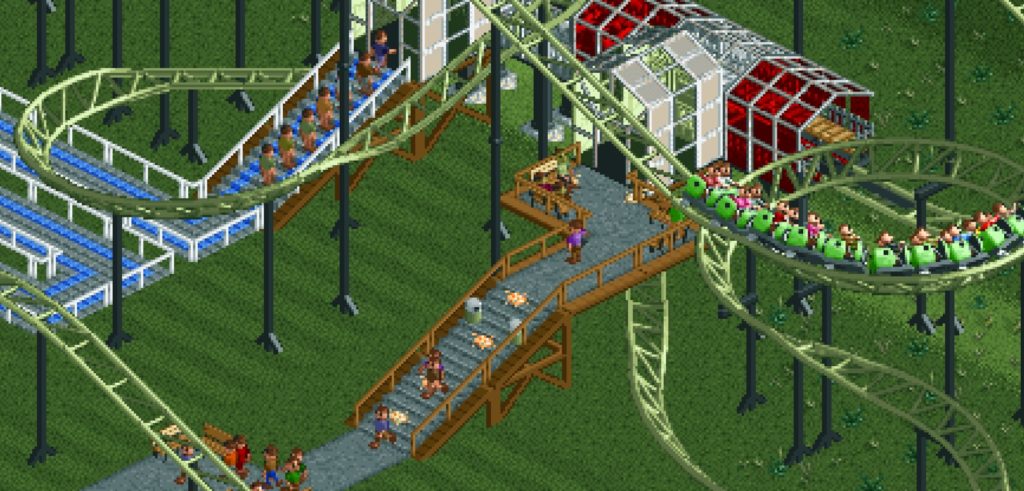 Just like in life, things don't always go as expected-the game throws a couple curveballs:
Guest vomiting, littering, and vandalizing
Rain causing guests to avoid certain rides
Rides breaking
Key Takeaway: We can't predict the future, but we do know things aren't always perfect. So just be ready to handle those events in a calm and timely fashion.
Wearing multiple hats is a must.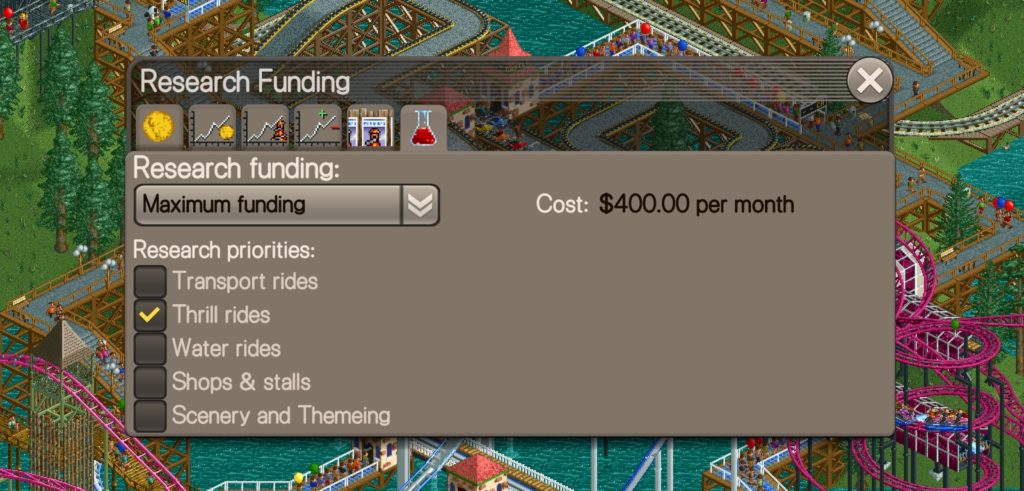 The game requires you to wear many hats: business owner, marketer, chief of operations, head of research and development, and the list goes on. By getting to take on each of these roles, you get full control over your park.
Key Takeaway: Having multiple skillsets makes you a way more versatile, valuable, and indispensable.
Testing. 1…2…3 Testing. Testing.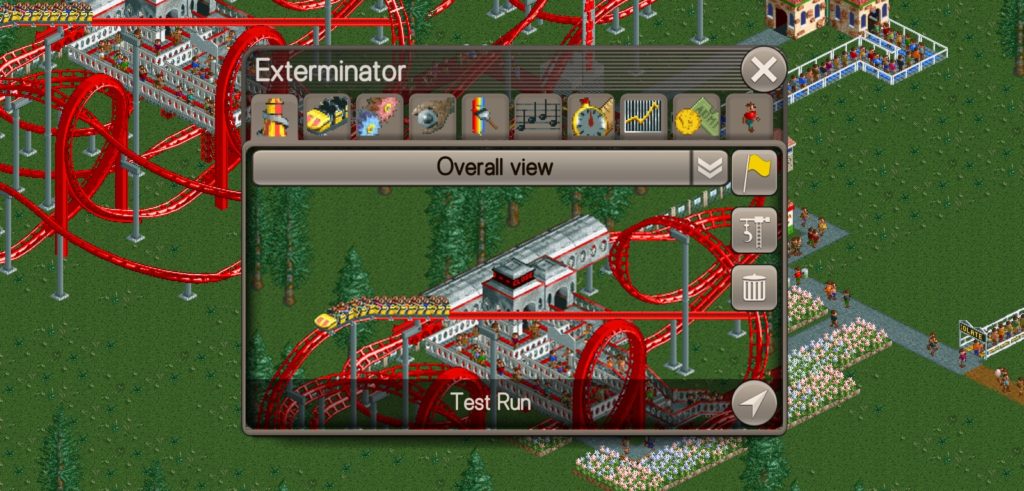 The game gives you the option to build your own rollercoasters from scratch and determine things like speed and height. But when it comes to building anything new there is an added level of risk—in this case it's safety and ride intensity. The game factors in some basic physics, so you can inadvertently create a ride that flies off the tracks or is so intense anyone who rides it will vomit afterward. So the way to avoid hurting your park rating is to run plenty of tests before opening it to park guests.
Key Takeaway: Before releasing anything to the public it's important to do some heavy testing to work out any kinks. The last thing you want is for people to have a bad experience that could deter people from using your product.
Starting from scratch isn't always an option.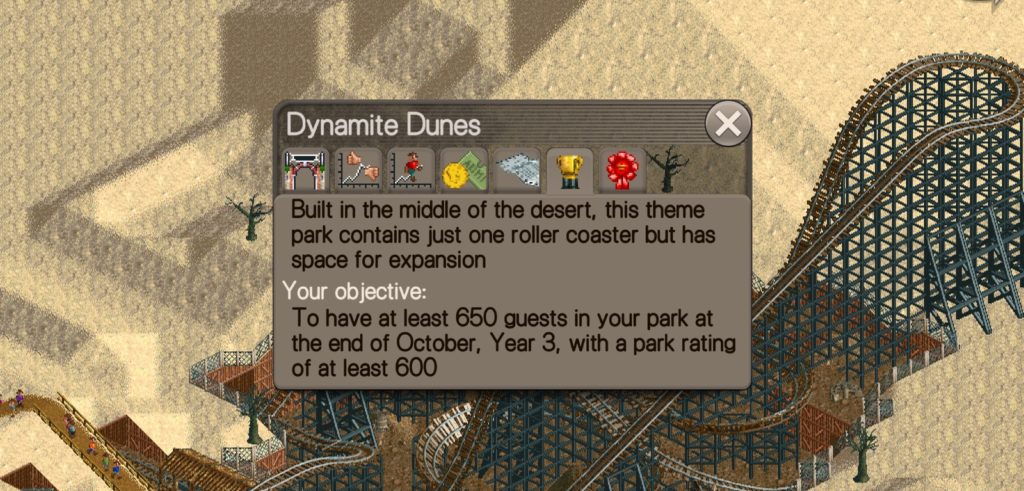 There are several scenarios in the game where you start off with a park that already has some rides and visitors, so in some cases the is objective to expand and in other cases it's to "turn things around". Some examples include:
Diamond Heights is already a successful theme park with great rides - develop it to double it's value.
Ivory Towers is a "a well-established park, which has a few problems" (vandalism and littering).
Crumbly Woods is "a large park with well-designed but rather old rides - replace the old rides or add new rides to make the park more popular".
Key Takeaway: While it might be nice to have fresh slate when starting a business or working on a project, it isn't always the best option (resource or financially-wise). So how do you work with what you have and still have something people are interested in? Take a step back, conduct an audit of what's working and what's not, and come up with a plan.
---
I use to wonder if I wasted too many hours playing video games in my childhood, but I can honestly say that I'm glad I invested that time (at least when it comes to this game). The lessons I learned from RollerCoaster Tycoon are ones that will stick with me forever.
Reach Out
Ready to Build Something Great?
Partner with us to develop technology to grow your business.