Building Successful IoT Products
By: Brendan Hennessy / February 20, 2018
We recently kicked off a series of webinars called Building Successful Iot Products. This series focuses on the key factors that drive successful release and adoption of new IoT (Internet of Things) products.
In our first webinar, which you can still watch here, we focused on the UX/UI interactions with your product that are critical to user adoption and retention. The ability to simulate the end-user environment prior to release of your product is crucial to foreseeing any suboptimal experiences. In the webinar we highlight a few common challenges including managing device battery levels and wireless (in this case Bluetooth) signal strength readings.
As the infographic below highlights, the IoT ecosystem is vast and complicated.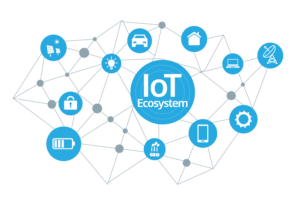 As such, we'll be doing additional webinars that focus on how to unlock the power of your IoT data as well as how to design and prototype your hardware.
With these webinars, we hope to impart some of our key takeaways from our recent IoT product launches to help you and your team have a greater chance of success!
Reach Out
Ready to Build Something Great?
Partner with us to develop technology to grow your business.