4 Reasons You Should Use Heroku in Your Next Project
By: Rebecca Jasch / April 29, 2022
A powerful game changer in the development space, Heroku is a Platform as a Service (PaaS) solution that reduces the need for complicated hardware and foundational development to launch web and mobile apps. One of our very favorite solutions here at LaunchPad, Heroku helps us seamlessly launch small and large-scale apps that are secure and scalable.
Using Heroku for our clients can reduce development time and spend, scale their apps with ease and efficiency, and provide standard security practices out-of-the-box. Heroku is also incredibly user-friendly and offers a robust community of developers. 
Whether you're searching for the right infrastructure for your app or considering an off-the-shelf alternative, we're here to guide you through the process. 
How Heroku Works 
As a PaaS solution, Heroku serves as the foundation for many of the applications we build here at LaunchPad Lab. Heroku is also hosted on AWS, bringing together the best-in-class Infrastructure as a Service (IaaS) and DevOps talent.
One of the easiest ways to understand Heroku is to consider it as a pre-built home. Instead of starting from scratch on foundational elements, all you have to do is move in and make it your home.
When you partner with LaunchPad Lab to build an app on Heroku, our team can focus on designing and building the features that are unique to your application. Plus, Heroku includes several benefits out-of-the-box, such as scalability, integration, and security.
4 Reasons to Use Heroku 
Save time and money on developer spend.
Heroku is the quickest way for your company to build, deliver, and scale an application, and it's a powerful tool that enables you to spend all of your time and energy on what is truly unique to your business.
We see the benefits of Heroku every day, going from idea to app as quickly as possible. When clients opt to build from the ground up with a brand-new hardware solution, the process is often much more complex and risky. They'll have to navigate buying and setting up hardware, installing software, defining user access, adding necessary hardware for scaling, building security measures, and addressing many more elements along the way.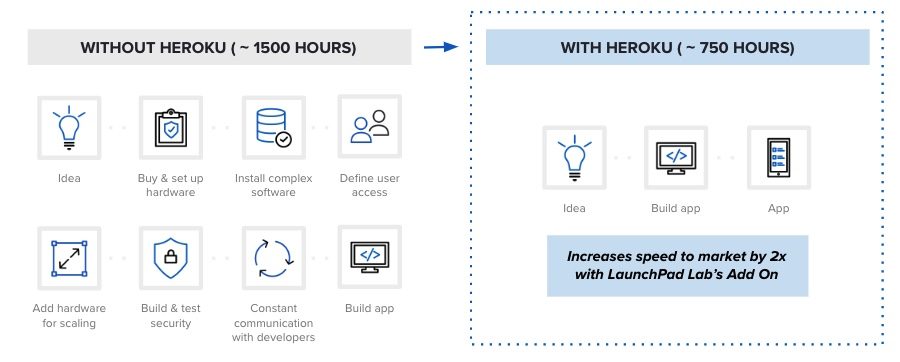 Enjoy a strong foundation for long-term scalability. 
For so many of our clients, we turn to the power of Heroku as the best-in-class foundation for their app. Rather than spending valuable time and money developing a strong infrastructure from scratch, Heroku makes it possible for our development team to architect a truly unique digital experience for your organization. Plus, Heroku is very scalable, so it helps you get to market quicker but scale efficiently in the long term.
Feel confident your data is protected. 
Heroku offers world-class platform security and proactive protection. The physical infrastructure is hosted and managed at Amazon's secure data centers, using AWS technology and backed by their stringent security standards
Beyond that, each application on the Heroku platform runs in its own environment. Customer data is stored separately in an access-controlled database through Heroku Postgres, keeping client applications secure and stable. 
If you have an application that requires additional compliance or security measures, such as HIPAA or PCI compliant apps for regulated industries, Heroku Shield hosts applications in an isolated container with additional guards and security options. With its advanced security and protection, Heroku serves as an excellent option for high-compliance applications requiring legal or industry-specific requirements to be met. 
Easily sync with Salesforce. 
If you're a Salesforce customer already, Heroku could be a great fit. Their team has created a real-time syncing engine called Heroku Connect, making it simple to move data between Salesforce and Heroku.
As customers interact with the proprietary mobile or web app, data flows seamlessly into Salesforce, where employees can develop powerful internal applications on the same dataset. For example, if your customer changes their name or phone number in your mobile app, the customer's data will be automatically updated in Salesforce, all thanks to Heroku Connect.  Employees can also manage the data administratively in Salesforce, with customers receiving these updates in near real-time in the proprietary web or mobile app.
Ready to learn more?
If you're looking for a partner to elevate your digital experience, LaunchPad Lab is here to help. Our team can help you differentiate yourself from your competitors with a unique digital experience. 
Schedule your free Discovery Call with us to learn more.
Reach Out
Ready to Build Something Great?
Partner with us to develop technology to grow your business.