How Can Salesforce Products Help You Build Your Digital Foundation?
By: Matt Jackson / September 22, 2022
A business's success is largely dependent on its Digital Foundation. This foundation consists of internal and customer-facing tech, which work together to attract, convert, and retain customers.
Here at LaunchPad Lab, we have many clients that come to us looking to re-platform and with the variety of products and capabilities that Salesforce provides, it's the perfect option for your future tech stack.
As a Salesforce development agency, we have the expertise to help your business build a strong Digital Foundation that utilizes and integrates seamlessly with Salesforce products. In this post, we will discuss several different Salesforce products and how they can assist your business in laying this crucial foundation.
Salesforce Products & The Digital Foundation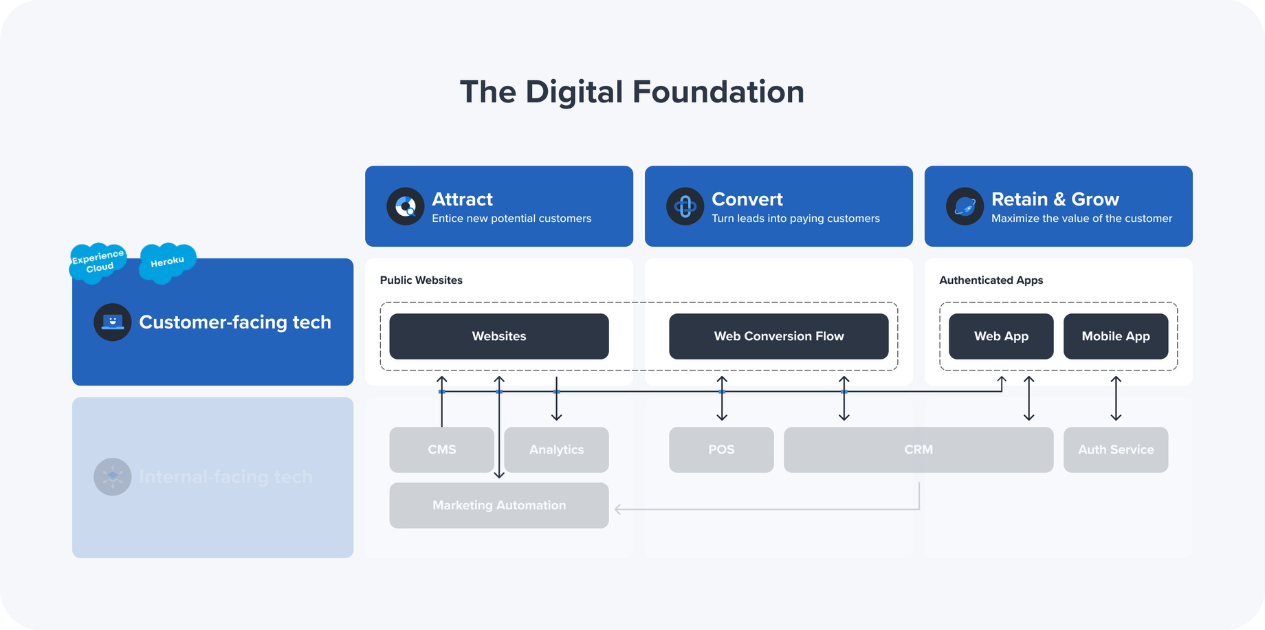 Experience Cloud
Experience Cloud (formerly known as Community Cloud) is a Salesforce platform for creating websites and portals that gives you direct integration with data from your Salesforce org. Experience Cloud can be used to create both authenticated and unauthenticated experiences.
Experience Cloud makes it possible to create beautiful digital experiences that are customer-facing and amplifies your ability to succeed with all three pillars of the Digital Foundation:
Attract: Your website is the first thing potential customers will see. Creating a website on Experience Cloud ensures that you can provide a seamless and engaging experience to attract customers.
Convert: Once a potential customer is engaged on your website, you need to have a plan in place to convert them into a customer. Creating a web conversion flow on Experience Cloud allows you to do this by guiding the user through the process and capturing their information.
Retain: After getting leads to convert into paying customers, you need to focus on retaining and growing them. Creating a web app on Experience Cloud helps you do this by providing a place for customers to log in and engage with your brand.
Heroku
Heroku is a cloud platform that provides businesses with a way to build, run, and manage apps. What makes Heroku so powerful is that it can be used to build any type of app on the Salesforce platform. One of the main ways Heroku helps businesses build a strong Digital Foundation is by providing a way to layer APIs. This is important because it allows your business to connect various apps and data sources, creating a seamless experience for users as well as your internal team.
Attract: Heroku can be layered with APIs to connect with other non-Salesforce products and offers direct integration with Salesforce products, such as Headless Commerce. This enables you to create a headless website that is fast, engaging, and easy to use. This helps attract potential customers to your site.
Convert: Heroku can also be used to create buying journeys and wizard flows. This helps your potential customers convert into paying customers by providing a seamless and easy purchase process.
Retain: Heroku allows seamless integration with Salesforce products such as Marketing Cloud and Service Cloud. This helps your business retain customers by providing a way for your customers to stay engaged and generate more revenue.
Salesforce Products Within the Attract Pillar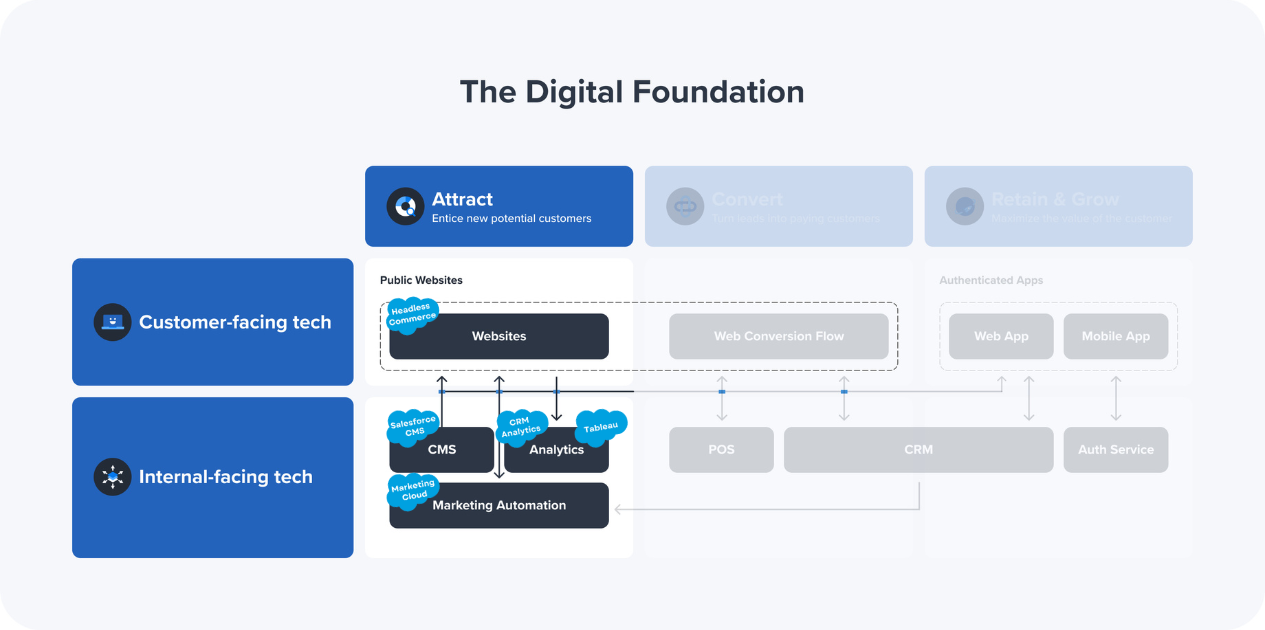 Salesforce CMS
Salesforce CMS is a content management system that assists your business with the Attract Pillar by making it easy to create and manage digital content. Salesforce CMS can be used with Experience Cloud sites or it can be used headless, which means the content can be decoupled from the presentation layer and published to any channel. This makes it easy to manage and update content as well as provide a consistent experience across all channels.
CRM Analytics and Tableau
Salesforce's CRM Analytics along with Tableau assist with the analytics piece of the Attract Pillar. CRM Analytics is a Salesforce native analytics product that works on top of Sales Cloud. Tableau is also a part of the Salesforce family which helps you visualize and explore Salesforce data. These products help your business by providing an easy way to collect and analyze customer data, helping you to create a 360-degree view of your customer and eventually enabling you to attract more customers as you learn more about their needs.
Marketing Cloud
Marketing Cloud is a Salesforce product that contributes to your business's internal-facing tech to help with the marketing automation piece of the Attract Pillar. Marketing Cloud is a robust marketing automation platform that offers features for audience targeting, automation, email personalization, and more. Marketing Cloud can also sync data back to Salesforce, making it easy to keep track of your customer interactions and journeys.
Headless Commerce
Headless Commerce is a part of Salesforce's Commerce Cloud product and is a way to decouple the front end of your eCommerce site from the back end. This is beneficial because it allows you to quickly create and deploy new experiences without having to rebuild the entire site. It also provides more flexibility and agility to easily offer unique and innovative experiences for your customers. Headless Commerce plays a part in the Attract and Convert Pillars of the Digital Foundation by providing a way to quickly create an engaging and personalized experience for potential customers.
Salesforce Products Within the Convert Pillar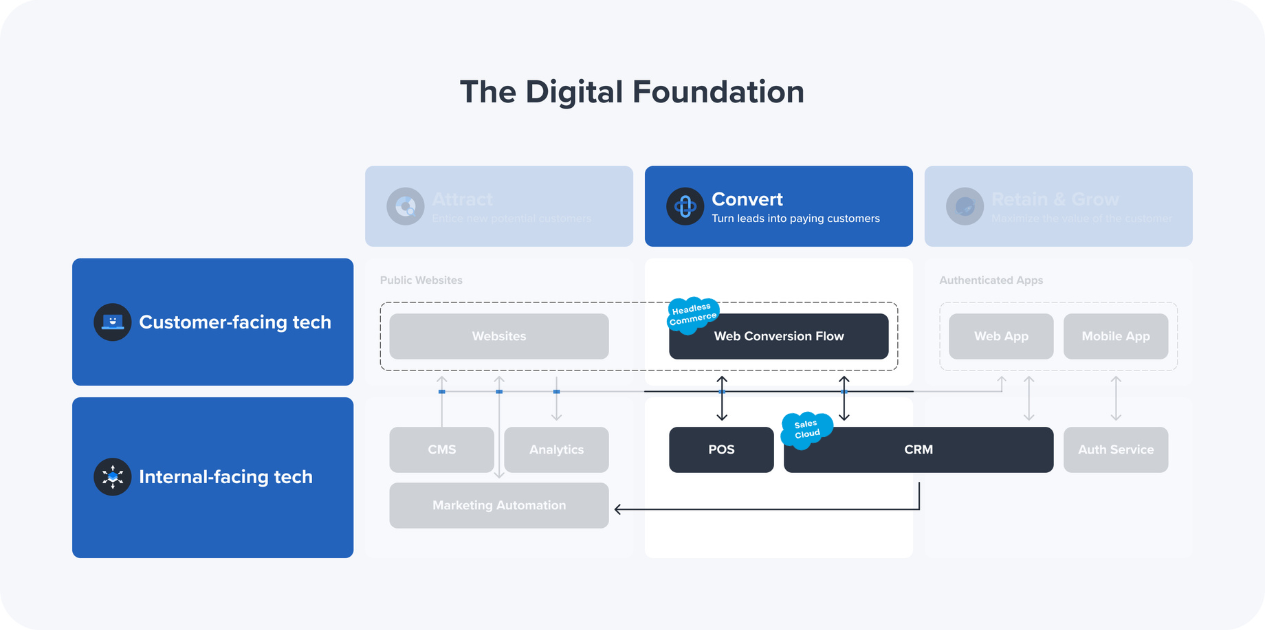 Sales Cloud
Sales Cloud is Salesforce's flagship product and is the most popular CRM in the world. Like any CRM, Sales Cloud is a part of your internal-facing tech which helps with the Convert and Retain Pillars of the Digital Foundation. An integrated CRM is crucial for sales and marketing teams to be able to work together efficiently.
In addition to CRM functionality, Sales Cloud allows for extensive customization and add-ons through additional Salesforce products like CPQ, field service, and Einstein. This makes it easy to tailor the Sales Cloud experience to your specific business needs.
Salesforce Products & The Retain Pillar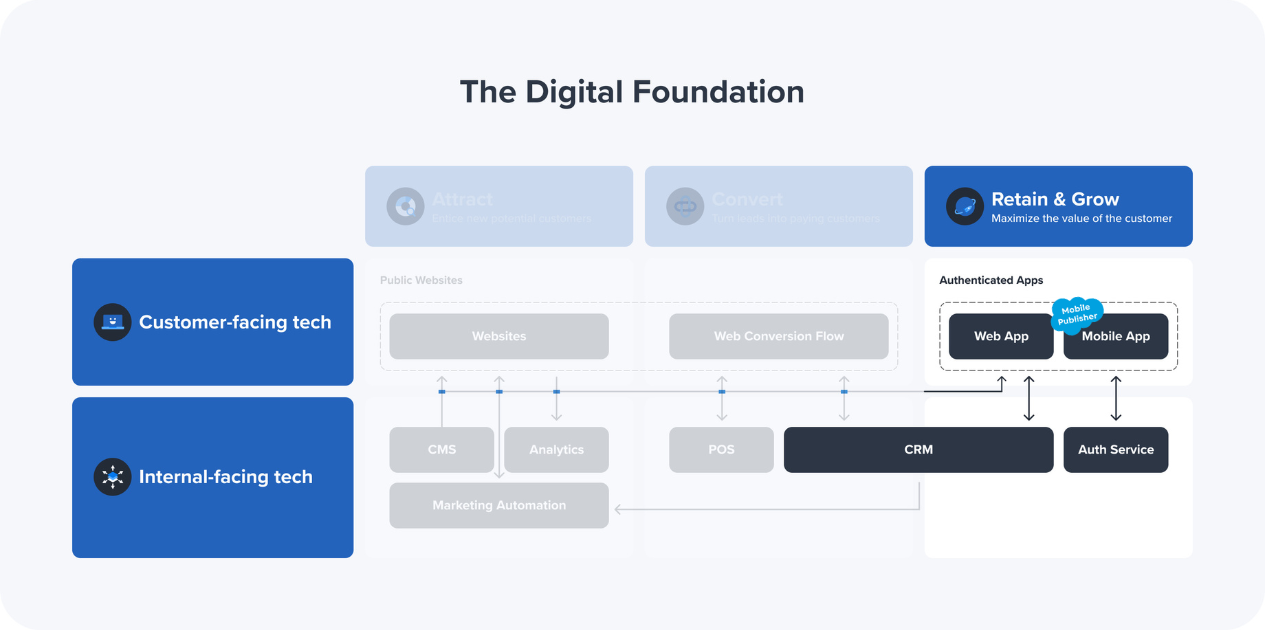 Mobile Publisher
Mobile Publisher is a Salesforce tool that enables you to create a mobile version of your Experience Cloud Application, which can also be published to Google Play and the iOS App Store. Creating a mobile app through Mobile Publisher helps with the Retain Pillar of the Digital Foundation by giving customers another way to engage with your brand that is convenient and user-friendly.
Let's Build a Strong Digital Foundation Together
As a digital product agency, we at LaunchPad Lab have a lot of experience working with Salesforce products. We can help you determine which products are right for your business and build custom solutions that integrate seamlessly to help you create a strong Digital Foundation that will continue to attract, convert, and retain customers. Book your free discovery call today to get started!
Reach Out
Ready to Build Something Great?
Partner with us to develop technology to grow your business.