6 Reasons Why We Love Building on Salesforce
By: Hillary Stewart / November 20, 2021
As a team of product builders, we all have our preferred and favorite platforms—and we're dedicated to finding the best technology to support our clients with their unique business goals. Without a doubt, one of our favorite technologies to build on is the Salesforce ecosystem.
An incredibly robust suite of tools, Salesforce can be a groundbreaking solution for many clients, and it can truly provide an unparalleled advantage for a company, help support their internal team's day-to-day duties, and help unite several teams together. Keep reading to learn why our development team loves to build on Salesforce.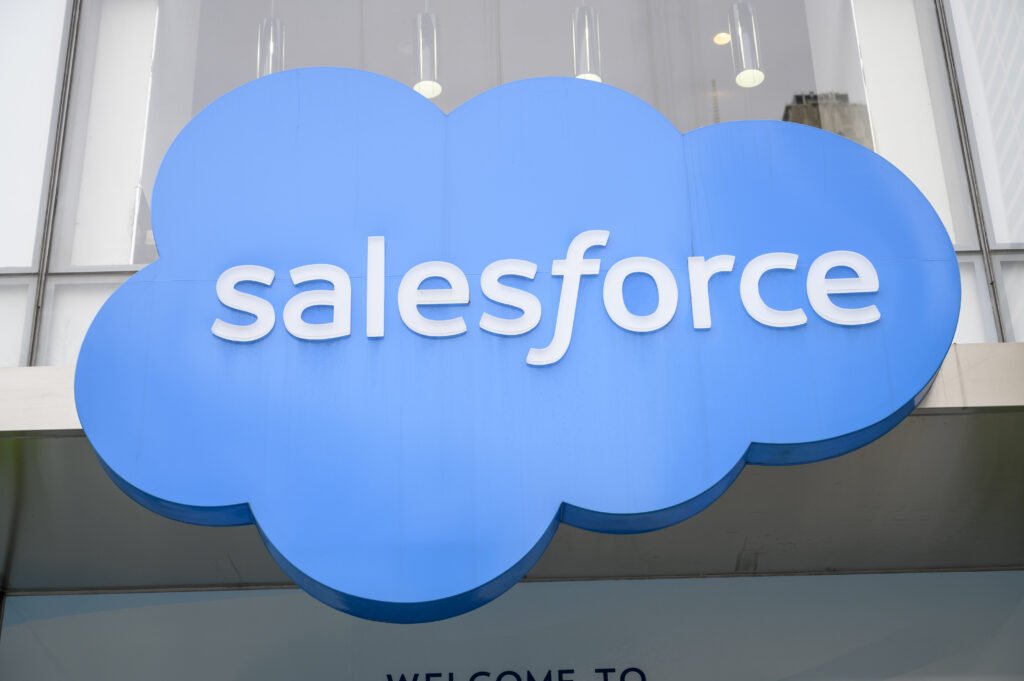 Why Salesforce?
Dubbed as one of the best customer relationship management (CRM) platforms, Salesforce has a singular goal: to unite the various departments of an organization together and enable them to work together seamlessly toward a shared mission. From marketing and sales, to commerce, service, and IT, building on Salesforce boosts productivity, drives growth and efficiency, and helps businesses connect with their customers in a streamlined, powerful way.
Salesforce truly provides a comprehensive ecosystem of services to empower business growth, customer relationships, and so much more. From Salesforce CRM to Heroku to Experience Cloud, there are unlimited options for developing a platform that meets your exact needs. In fact, one of our developers, Matt Jackson, was recently part of a webinar discussing which Salesforce product is right for building an app or portal.
What are the Benefits of Building on Salesforce?
The benefits of building on Salesforce are nearly endless. Many companies who experience frustrations about siloed customer data are great candidates for building custom products on Salesforce, which would help break down barriers between departments and provide a comprehensive overview of your organization's customers.
From seamlessly integrating data to offering streamlined tools for employees to rely on for daily functions, Salesforce is a robust option. Plus, it's a software—and it lives in the cloud—making it perfect for remote or distributed companies who need to deliver exceptional experiences to their customers around the clock.
Here are some of our favorite reasons to build on Salesforce:
1. Customize to fit your unique needs.
We recommend building on Salesforce to companies that have a unique set of requirements, allowing them to benefit from a bespoke and personalized digital platform when a standard, off-the-shelf product doesn't fit their use case. Through the vast selection of packages available in the AppExchange, you can extend a Salesforce solution to accomplish nearly any task due to integrative apps that solve every business need.
Salesforce's customer relationship management tools are supercharged with a number of integrations that can help your business connect with different audiences and ensure a seamless process for all members of your team. From productivity to marketing to collaboration and more, you can integrate Salesforce with the tools you need.
2. Incorporate your data seamlessly.
If you have a large amount of data, building on Salesforce allows you to connect all of your data and create a 360-view of your customer. A true competitive advantage, Salesforce can bring together multiple systems and data sources—including external ERP, Supply Chain, HR, or software such as SAP, Oracle, and Microsoft. All of this data can work in tandem, allowing your team to access a robust, 360-view of your customer.
3. Build the best customer experience.
To provide the best customer experience, your internal team needs adaptive, flexible, and powerful tools to serve their customer's needs. Without a custom solution, frustrations can arise, particularly by those members of your team who rely on a CRM platform to accomplish their job.
But with customized Salesforce-powered products, your team will have a plethora of tools at their fingertips to achieve company goals in a productive, effective manner. Our team leans into the dual engine architecture approach that combines both off-the-shelf technologies (CRM) with custom apps built on Heroku, creating best-in-class solutions. By choosing a customized Salesforce platform, you'll have exactly what you need for a job well done. 
4. Fit for growth.
When you need something custom and try to use something off the shelf, it might help in the short-term—but long term, you may find that vital features are missing and you cannot properly evolve with its functionality.
For companies who have high amounts of data and a large growth trajectory, Salesforce offers the best options that are incredibly adaptable and agile. And by opting to build a custom application, you can scale it with your business and it will adapt with your growth.
5. Constant innovation and improvement.
Salesforce launches at least three product releases each year, which ensures that innovation and improvements are always on the way. Plus, Salesforce offers a continuous loop of customer-led ideas and customer input helps to shape future releases via the IdeaExchange, prioritizing feedback directly from users.
6. A powerful community of developers.
For developers and administrators, Salesforce has a well-connected online community that provides online training and much more—and many of our developers love found a love for Salesforce through their passionate, developer-focused community. Trailhead is Salesforce's educational hub, filled with certifications, guided learning, and modules to guide developers through new technology and custom builds.
Ready to Learn More?
If you're looking for a partner to elevate your digital experience, LaunchPad Lab is here to help. Our team can help you differentiate yourself from your competitors with an amazing digital experience. Book your free discovery call with us to get started.
Reach Out
Ready to Build Something Great?
Partner with us to develop technology to grow your business.